While there are many good dance studios in Australia, some are outstanding when it comes to introducing younger children to the magic of ballet. These studios naturally have excellent teachers and facilities, but they also excel as fun, caring and creative places for tiny dancers.
Triple Menace Studios is an official Angelina Ballerina Academy, and joins a growing network of over 140 studios in the USA, Canada, Australia and New Zealand offering weekly classes based on the beloved dancing mouseling, star of the Angelina Ballerina book series and television programme.
Angelina Ballerina Programme
The programme is inspired by Angelina Ballerina books and TV series and will focus on one story book per month. Targeted at children ages three to six years old, the program teaches beginner ballet at two levels. Angelina Ballerina's voice will guide aspiring dancers through their movement lessons, and the program incorporates music from Angelina Ballerina: The Next Steps.
This wonderful program has been developed by not only master ballet teachers but child psychologists who have studied and researched how children in this age group learn. Understanding how a child processes information is key to providing an early childhood dance program that is safe, effective, developmentally appropriate and FUN!
Becoming an Angelina Ballerina Academy
To become an Angelina Ballerina Academy, partner studios must meet specific criteria, including membership of a recognised national dance-teaching organisation such as the RAD.
Our young dancers will receive an Angelina Ballerina Dance Journal and will receive informative pages about dancing and about how to behave like a ballerina. Children will also receive stickers and certificates of achievement to mark their progress throughout the year as well as activity sheets.
There will be opportunities for our little mouselings to bring a friend to class to share in the fun and excitement of an Angelina Ballerina Class. Most exciting of all will be a special visit from Angelina Ballerina herself to TMS. Our dancers will be able to meet Angelina Ballerina and to dance with her, as well as have photographs taken etc…
This programme is a wonderful opportunity for young aspiring dancers to develop a love of learning through reading, dancing, music and imaginative play. Please see our timetable for available class times in the Angelina Program as well as other classes we offer for this age group.

Access the Angelina Ballerina website with great information for parents and games for children!
Angelina Ballerina Timetable
Tuesday 4:00 pm – 5:00 pm (2-3 years)
Tuesday 5:00pm – 6:00pm (4-5 years)
Thursdays 4:00-5:00 Boys only hip hop and actobatics (3-6 years)
Thursdays 5:00-6:00 jazz and acrobatics (2-5 years)
Saturday 9:30 am – 10:30 am (2-3 years)
Saturday 10:30am – 11:30am (4-5 years)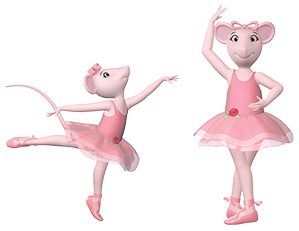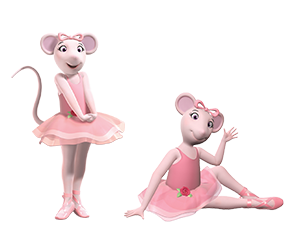 Questions? Please drop us a line.
For more information and enquiries, please feel free to contact us.
Contact